Past Events
Association Officers at the 2021 Col. Edward Buschkamper Luncheon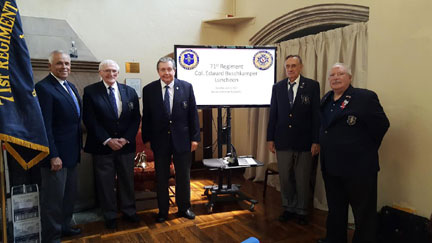 Don't Give Up On American Youth
Please click on blue box below to view a presentation


2016 Victory At Bull Run Picnic
Radio Show and Flanders Ceremony
| | |
| --- | --- |
| | |
| Francis Smith & Lou Milgram during 1 Hr radio show prior to Memorial Service 22 May 2015 | Francis Smith Flemish NYC Head, Mr. Geert De Proost,and Julie Stein at Flanders Ceremony hosted by the Flanders Govt. in NYC |
Squad 18, NYFD Commemoration Ceremony
| | |
| --- | --- |
| | Members of the 71st Vets attended the 46th Annual Squad 18, NYFD Commemoration Ceremony. The morning meeting followed by Mass is hosted by Squad 18 on West 10th St NYC. Followed by the ceremony on 23d St. at the site of the October 17th 1966 tragic fire. The Squad that perished was led by Lt. Joseph Priore, brother of our Vincent Priore. |
| | |
| | |
Members meet each Tuesday to finish work on our museum
A presentation to General George W. Casey, Jr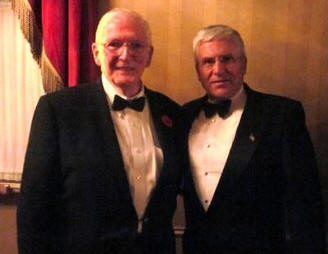 On 4 June 2012
Lou Milgram presented Gen. George W. Casey, Jr. a 71st Inf. Regt/Veteran Coin at the Ancient & Honorable Artillery Co. Of Mass. Dinner in Boston, 4 June 2012. General Casey was the 36th Chief of Staff of the US Army, 2007-2011. From 2004-2007 he commanded the Multinational Task Force in Iraq.

The Annual Col. Henry P. Martin Dinner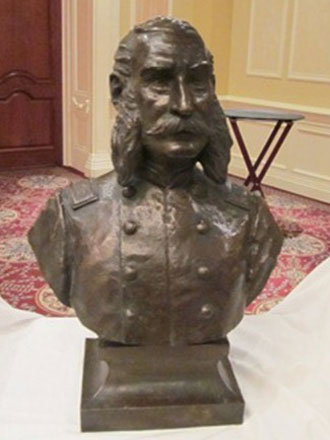 On 14 November, 2011 the association celebrated the anniversary of Col. Martin's Birthday.
Col. Martin died in 1906 leaving finances, a life size bust and instructions "to gather in good cheer annually on the anniversary of his birthday".
Since the Regiment moved out of the 14th Street Armory the events were held with out the bust of Col. Martin being present. The bust was lost. Through good luck and the help of the NYS Military Museum and MG Patrick A. Murphy the bust made a surprise appearance this year. Friends of the 71st who participated this year were; members of the 369th, Sergeants' Major Assoc. and the Old Guard of the City of NY and our lovely vocalist Michelle Cleary.


To view images from the affair click here
Commander's New Year Reception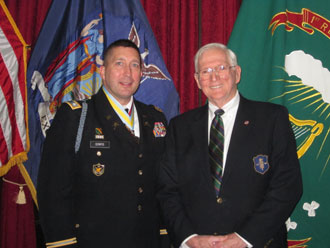 LTC James C. Gonyo II Battalion Commander "The Fighting 69th"
and Lou Milgram 71st Vets at the Annual Commander's New Year Reception
8 January 2012

Author of Duty, Honor, Privilege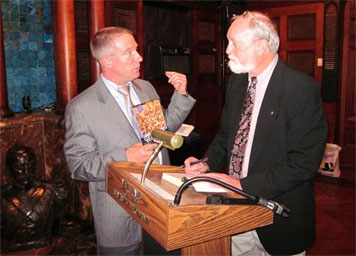 71st Vets member Christian Glorius pictured with Steven L. Harris author of Duty, Honor, Privilege about the 7th Regt breaking the Hindenburg Line in WW I Mr.Harris was guest speaker at the Annual Hindenburg Line Dinner held in the Tiffany Room of the 7th Regt. Armory. The event was attended by several other members of the 71st Vets.
Tree Dedication & Memorial Service: 9 July 2011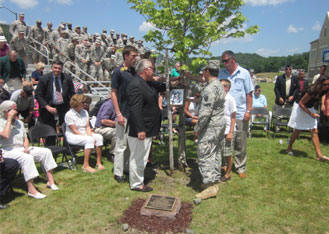 This photo is of the Healey Family at the tree dedicated to MG Joseph A. Healey. On the other side of the walk a like tree and monument honored MG Vincent W. Lanna. The service was held outside the new armory at Camp Smith. Organized by MG (r ) Robert Rose, hosted by BG Michael Swezey, 53 TAC. The event was sponsored by the 71st Vets and 19 other organizations.

To view more picture click here

First meeting at the Jamaica Armory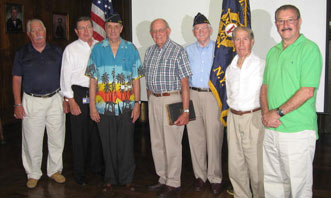 On 22 June, at 7 pm, your association members met, for the first time, in our new home in the Jamaica Armory. The main purpose of the June meeting was to elect a new slate of officers and trustees to replace those who's terms had expired.
The paper ballots were counted and certified by Jim Kasprzak, Secretary and Steve Walata, Treasurer. The results are; (in left to right order in the attached photo) Ray Kuta, Trustee- James Whalen, 2d VP - Julius Stein, 1st VP - Donald Ferguson, President -Lou Milgram, Trustee - Gabriel Grenci and Michael Guglielmo, Trustees. Since our quarters are not ready for our meetings, LTC Hoblin and Staff of the 258 FA allowed us to use their conference room and club . We presented a new American Flag and stand to Maj. Mehling, XO. 258th
July 2012 Annual Victory at Bull Run Picnic at Fort Hamilton
Memorial Service at 71st Regt. Ce

metery at Mt. Hope May 2010
Col. Buschkamper Lunch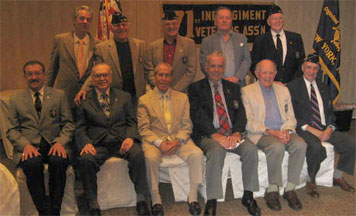 Eleven Officers & Trustees of the Association at the 5 June 2010 Col E. Buschkamper Lunch.
Bottom l to r; Mike Guglielmo Tr., Clarence Anspake Pres, Gabriel Grenci Tr, Andrew Donahue Tr,
Donald Ferguson 2d V.P., Julius Stein 1st V.P.
top l to r; Bob Mauro (member*) , Joseph Tassa Tr, James Kasprzak Sec., Steve Walata Treas,
Lou Milgram Ch of Board
*Note B. Mauro standing in for Ray Kuta Tr.
St. Patrick's Day 2011
| | |
| --- | --- |
| 2011 Saint Patrick's Celebration at the 69th Regt Armory Col G, Slack 27th Bde Commander (and 71st Vet) with Lou Milgram | Lou Milgram with Curtis Sliwa of Guardian Angels |
| The Healey Family; Monica her Brother and family members in the MG Healey Room in the 69th Armory | The Tierney Family Mrs.& Col James center with sons Lt Dennis on Rt and Major Jim on left James is the 69th Regt Historian and also a member of the 71st Vets |
St. Barbara's Dinner
| | |
| --- | --- |
| MG Steven N. Wickstrom and Lou Milgram (71st Vets) | Lou Milgram Col James Whalen (71st Vets) |
| MG Wickstrom and LTC Michael Hoblin 258th FA BN | MG Robert R. Rose (71st Vets) MG Steven N. Wickstrom Capt. Janet Erazo |
The photos taken at the St.Barbara's Dinner, Hosted by the 258th Field Artillery Bn. 22 Feb 2011
attended by present and former members of the Artillery and by members of the 71st Vets Assn.

Col. Martin Dinner Dias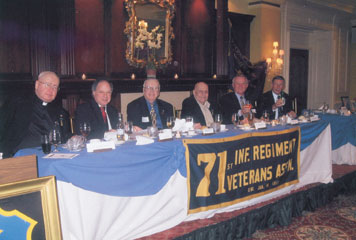 Dias table at the 2008 Col. Martin Dinner

(L to R) Fr. E. Kane, J. Richmond Greenwood, Clarence Anspake, MG V. Lanna, MG R. Rose, MG T. Garrett.
Hindenburg Line Dinner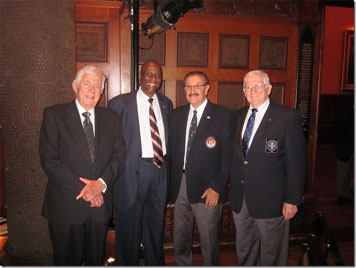 Members of the 71st Regt. Veteran Association attended the 2012 Hindenberg Line Dinner at the 7th Regiment Armory.

Pictured are BG Jacj Jhones, CSM (r) Mike Guglielmo and Lou Milgram
Your Comments are
important to us
If you would like to submit items for inclusion on this website or give us your comments, opinions or suggestions or if you have any concerns please e-mail to: chairman@71stregtvets.org
If you do not have email you may send hard copies to:
Lou Milgram
19 Concord Drive
Fort Salonga, NY 11768-2422

Events published on this website
MUST conform to protocols below:
Please use normal fonts such as Times New Roman or Arial. All text submitted will be converted to Arial.

Use normal case. Do not send ALL UPPER CASE or all lower case text.

If you are sending a Microsoft Word document containing images you must submit/attach the images separately as a jpeg, gif, tif or bitmap.

All submissions MUST include your name, address, phone number and email address, if you have one.

All images MUST include a caption, story etc. Please use spell check and make sure titles and names are correct.

We reserve the right to decide which copy to print and when.

The editor, 71st Regiment NGNY and Digital Brochures Online Corp. do not vouch for the accuracy or the validity of any articles that may be published.